I get all sorts of newsletters.
Today, I got one from Code Pink. I met some of those folks at a protest march in Washington DC several years ago.
Now Code Pink is starting a garden in the Lower 9th Ward of New Orleans. According to their website, they are going to "bring endless beauty to residents returning home to replant their own roots" in that City.
[Click on the post headline above to read about their garden and donate to the cause.]
I think the garden is a great idea. I love plants. And I'm growing a few of my own, both indoors and outside.
Here in the high-desert section of the Pacific Northwest, it's officially Springtime now. The daffodils are blooming, the leaves are popping-out on the trees and there is no snow or ice in sight. Heh-heh-heh.
And I know that Code Pink might not agree on my choice for the next United States President. I am now endorsing Senator Hillary Clinton.
But that doesn't mean that I won't appreciate Code Pink's endeavors. I like a lot of what they do. Especially when they formally introduced themselves to the so-called Secretary of State Condoleeza Rice last October.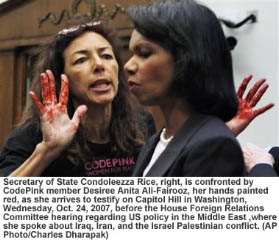 On April 11-12, Code Pink will join a larger group of people in New Orleans for the huge
V Day
celebration. THAT'S going to be some party!
After that event is over, I hope that the plants and flowers will grow strong and flourish in Code Pink's beautiful garden in New Orleans.